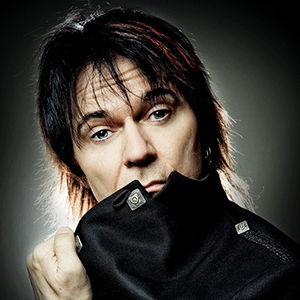 There are, without doubt, many ways to mark the beginning of a career. Uniquely, Lawrence Gowan started his professional clock ticking the day after he was born in Glasgow, Scotland on November 22, 1956 at which time he was observed rocking happily in his cradle. By all accounts, he's never stopped.
Gowan's parents pulled up roots and resettled in the Toronto suburb of Scarborough. When his father gave him an acoustic guitar when he was 8 and his mother nudged him in the direction of the piano when he was 10, Gowan chose the latter. He earned his certification in classical piano performance from Toronto's Royal Conservatory of music in 1976.
He devoted his days to writing and experimenting with different piano styles and his nights to performing the results in clubs. Gowan's first band, Rhinegold, was a progressive rock affair that featured elaborate lighting effects, costume changes and its charismatic frontman dancing on a baby grand piano. After 5 years, Rhinegold lost out to power trios and disco.
Gowan regrouped. A tour with Ronnie Hawkins financed a demo tape which landed him a record deal with CBS in 1982. A self-titled album floundered. But, commercial breakout arrived in 1985 with the 3-times platinum Strange Animal. Momentum built in 1987 with Great Dirty World and its international smash hit Moonlight Desires. Gowan was now a headliner.
"The toughest hurdle that came along was the transition from the '80s to the '90s," he says of the times. "That took me years to figure out how to realign myself." But Gowan did re-invent himself, adopting a harder edge for Lost Brotherhood (1990), strapping on an acoustic guitar for But You Can Call Me Larry (1993) and touring as a one-man show in 1997. Two Juno Awards, platinum and gold albums and several songs with over 100,000 radio plays offer ample proof of his success.
In 1999, Gowan was invited to join classic rockers Styx. He'd opened for them the year before and they reminded him of his theatrics with Rhinegold. "I mean, part of why I'm so sympatico with Styx, they put on a giant epic show every single night and it's really over the top and that's what people love," he says. During Gowan's 1600 shows with Styx they've been among the highest grossing acts in the USA, recorded 4 studio albums and 3 live DVDs and performed twice at the Super Bowl.
"There's a duality in every choice you make in life," says Gowan reflecting on the sacrifice of his former career. "You're going to gain something but you're going to lose something. Being in a band like Styx, life doesn't necessarily hand you a fantastic card like that."
With the arrival of the 25th anniversary of Strange Animal in 2010, Gowan has made time to do a few solo performances. "You can never really hope for longevity when it comes to music," he says regarding the vagaries of the business. "You just don't know what's going to stick around and what's going to fall by the wayside." Lawrence Gowan has every intention of sticking around and there is no wayside in his foreseeable future.
Ken Wright