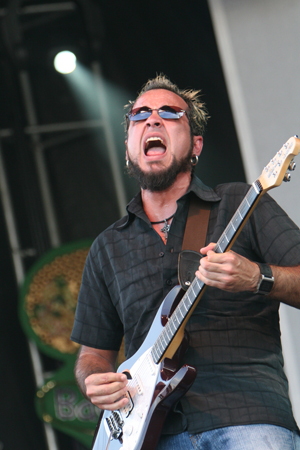 No people are prouder of their music and culture than the fine citizens of Cuba. In fact, this island nation of 11 million boasts 13,000 professional musicians, more per capita than any other country on earth.
Universally famous, traditional Cuban music is an intoxicating mojito of pulsating African rhythms and vibrant Spanish melodies stirred into the coolest American jazz. Just 20 years ago, a bleach-blond musician with a couple of hoop earrings playing blues music on an electric guitar was unthinkable. But thinking changes even in Cuba and today that dyed blond, earring sporting electric guitarist is here. His name is Elmer Ferrer and he's taking his reputation as Cuba's best-known blues rocker around the world.
Elmer Ferrer was born into a musical family in the small city of Sancti Spíritus in 1973. At the age of 12, he entered the local Elementary School of Music to study classical guitar and four years later enrolled in the prestigious National School of Arts in Havana.
During his first year there, Ferrer saw the movie Crossroads (1986) which featured the guitar playing of Steve Vai. "I enjoyed it far too much, and it made me switch to electric and popular guitar," recalls Ferrer. Hooked, he spent his free moments practicing electric guitar learning from cassette tapes of John Scofield, Pat Metheny, Joe Satriani and Robben Ford that were shared between students and teachers.
Since graduating in 1992, Ferrer has been in demand as one of Cuba's top writers, producers, arrangers and performers both live and in the studio. He has collaborated on more than 60 albums and toured extensively with some of Cuba's most renowned musicians entertaining audiences as large as 90,000 people. Metrόpoli (2002), his first CD as a soloist, won the Best New Album Award at the Cubadisco International Music Fair and was also nominated for Best Jazz Album of the Year.
The Elmer Ferrer Band was formed in 2004 and made its international debut opening for Kid Rock at the 2005 Cisco System Ottawa Bluesfest. The band was so popular that it's CD Fango Dance, which was released at the event, ranked fifth in units sold at the festival and they have been back by popular demand to tour Canada every year since. Don't leave the festival without a copy of Ferrer's brand new CD, No Guitars Allowed (2009).
Known for his round, juicy tone, his virtuosity, his daring improvisational style and the passion and conviction of his playing, Ferrer has been called the "Cuban guitar sniper". Live on stage, the music of the Elmer Ferrer Band is intense, a crackerjack fusion of blues, rock, jazz and timba (Cuban salsa) played the Cuban way, fast, furious and beautifully. In Cubano such a wonderful savoury mix is called "tremendo arroz con mango" (tremendous rice with mango). Viva la musica! Viva Elmer Ferrer! 
Ken Wright