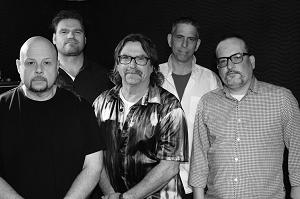 Driven is Thunder Bay's newest Classic Rock & Blues band. Featuring five of the city's most talented musicians, they put on an energetic show that is guaranteed to please. Covering the likes of Tom Petty, John Mellencamp, The Tragically Hip, Kenny Wayne Sheppard and other amazing artists, their set will get you up and moving!
Lead vocalist, Dan Santerre has been fronting bands for many years, providing powerful vocals, high energy and a great sense of humour. Dan's influences include Paul Rodgers and John Mellencamp among many others. Always professional and always smiling, Dan brings his very best to every performance.
Multi-instrumentalist Mike Carson has spent the last 20 years playing with the who's who of Toronto's music scene. An accomplished player, Mike has toured nationally and internationally with various recording artists. Driven is delighted to have Mike and his musical abilities. He shines on lead and rhythm guitar as well as lead and backing vocals.
Peter Reslinski is the driving force behind the band. A hard hitting, consistent drummer with a great feel, Peter brings 35 years of playing experience to the group. He supplies strong backing harmonies and is also comfortable in the lead vocal role.
Mark Toskovich is a music scene veteran. Supplying the low end for Driven, he is responsible for that rumble you feel in your chest. With his infectious smile, Mark lays it down with a ton of energy and confidence that is second to none. He has a great personality, strong backing vocals and a natural ability to entertain.
Calum Robertson is one of the city's top guitarists. He is as comfortable behind the microphone as he is playing guitar. Calum delivers strong lead and backing vocals as well as an incredible playing style. Anything from soft, emotional passages to a screaming slide guitar, this man can do it all! He's a perfect fit both musically and personally.
Check the band out at www.facebook.com/DrivenTbay/ and www.reverbnation.com/driven31/.
Submitted Profile