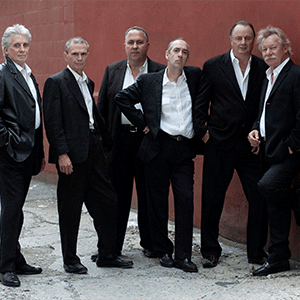 If there ever was a Canadian blues band with a claim to the epithet "legendary" it's Downchild (originally the Downchild Blues Band). Named after a song written by blues harmonica giant Sonny Boy Williamson II, the group coalesced in 1969 around jam sessions led by Donnie Walsh and his brother, the late Richard "Hock" Walsh, at Grossman's Tavern, a renowned blues haunt on Spadina Avenue in Toronto.
For most of his life, Donnie Walsh has carried the nickname "Mr. Downchild". In fact, a favourite story tells of a bar owner who, when paying the band, made the cheque out to "Don Childs." The Walsh siblings were the templates for The Blues Brothers (Jake and Elwood), the comedic movie personalities of Dan Aykroyd and partner John Belushi who borrowed the image of the valise in which Walsh stored his harps for the title of their 1978 album Briefcase Full of Blues.
The genre first grabbed Walsh's attention when someone played a Jimmy Reed album at his girlfriend's 16th birthday party. It left him craving more. "That was it. I was hooked. I never wanted to play anything else," recalls Walsh who spent countless hours mastering the intricacies of harmonica reeds and dissecting, then reconstructing guitar licks.
For more than 45 years, Downchild has defined the sound of jump blues in Canada and beyond. Walsh, the Canuck John Mayall, has mentored over 100 musicians during thousands of performances, more than 30 cross-country tours (all by van), trips to Europe and 17 albums. Their latest is the Juno Award winning Can You Hear the Music (2013).
The past 15 years have brought stability with the current stellar lineup of Chuck Jackson (vocals and harmonica), Michael Fonfara (keyboards), Pat Carey (saxophone), Thunder Bay native, Gary Kendall (bass) and Michael Fitzpatrick (drums) who have won a plethora of accolades for the high calibre of their playing.
Tearing up the joint and red-lined energy levels, Downchild has always had an uncanny ability to read an audience and get it exactly right every time. To generations of hard-core fans, they're as real as dirt. "We've been together long enough to know just how everything fits, every groove, every note, every piece of punctuation," says Walsh of his band mates. "It's not as if we have to go looking for hooks – they just happen. It just gets better and better."
Walsh attributes Downchild's longevity to finding that delicate balance between what the band needs and what each musician can give. "Blues is serious stuff, it's a heavy kind of music in your soul. You show up with the blues I play, you lighten up," he says trying to explain their ongoing appeal. "That's what it's all about. It's like medicine."
With that kind of job security, Walsh has no plans to retire. "As long as there are men and women falling for each other and getting into trouble," he says, "I'll be playing this until I drop."
There are no qualms from the press. As Dan Whitlock of Blues Revue magazine attests, "This is the classic take it to your grave testament of one of the greatest blues bands in the world. Period."
Ken Wright