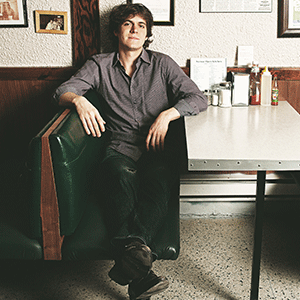 Devin Cuddy may be the son of Blue Rodeo's famous co-frontman Jim Cuddy, but he's determined to be an original. Which isn't to say that there hasn't been some parental impact. "We hung out at shows like it was our dad's office, nights mostly" he says of the family experience.
Born the same week that Blue Rodeo began recording its 1987 debut album Outskirts, Cuddy grew up listening to country rock sound bytes. He was encouraged to take piano lessons as a youngster. But it was a copy of Louis Armstrong's Greatest Hits that Cuddy found while rummaging through his father's voluminous record collection that turned his head. "I just gravitated to the New Orleans sound, maybe because it's fun and I love the tradition of people coming together to make music," he explains. "It was the first style that I really got a handle on and when I started playing the piano it just all came together for me."
Cuddy's love of jazz grew quickly leading to explorations of Dixieland, Big Band Swing, Be-Bop and rag time. Curiously, it was while enrolled in Jazz Studies at York University in Toronto that he found common ground with his father through a renew appreciation for country music. "It's all roots music, right?" says Cuddy philosophically. "You eventually end up back there anyways and it's the music I'm most drawn to."
He wrote some songs and test drove his style playing solo gigs before forming his namesake band. Cuddy's current home base is the century-old Cameron House Hotel on Queen Street West in Toronto where he rents an apartment and plays a weekly gig in the hotel's club. He was also one of the first artists to be signed to the independent Cameron House Records label.
The simply titled Volume 1 (2012), Cuddy's first CD, snagged a Juno nomination for Roots/Traditional Album of the Year. His sophomore release, Kitchen Knife (2015), produced by Blue Rodeo's other renowned co-frontman Greg Keelor at his Lost Cause home studio, solidifies a sound distinguished by its retro aura, front and centre ivories and warm vocal glow. It's an unlikely collage of Lyle Lovett Grand Ole Opry twangy, Otis Spann old-school piano blues and Dr. John New Orleans honky tonk. Keelor's balanced approach at the helm was impressive. "He's a guy I've known my whole life, so there was no kind of shy intimidation," says Cuddy. "He's been doing this for 25 years. He took a front seat when when it was appropriate and a back seat when it was appropriate."
Immensely proud of his eminent family name, Cuddy isn't averse to taking advantage of the opportunities that it presents. "Even as I carve out my own path, there are some things that I can't say no to," he says of the invitation to open select dates during Blue Rodeo's 2014 Our Nature Tour.
He's definitely reached the point in his career where he's confident on stage in his own skin. "Over the past three years I've made more music than ever with my father," says Cuddy. "I haven't felt the pressure or the shadow."
Ken Wright