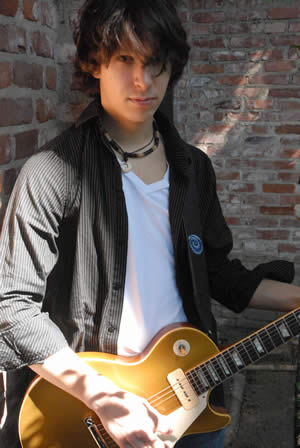 It's something that we can all relate to. An experience so arresting, that it consumes our attention and even alters the course of our life.
For Davy Knowles, it happened while riding in the car with his father when he was just 11 years old. "He put on Dire Straits' Sultans of Swing," says Knowles remembering the day. "That track changed my life, and I realized I really wanted to be able to do that."
Knowles, who hails from the Isle of Man, a pastoral territory located in the Irish Sea, got started on guitar. "I nicked my dad's acoustic and figured the song out by ear," he continues. "I must've played it for a year." He practiced on two cheap acoustic guitars for a while. "Then my dad got me a Peavey Raptor," he recalls. "From there, it was on."
While classmates were tuning in to Metallica and Britney Spears, Knowles was devouring his father's record collection discovering a world of musical wonder in John Mayall's Blues Breakers, Eric Clapton, Peter Green and, his personal favourite, Rory Gallagher. When his father took him to a Robert Cray concert in 2003, one song, Back Door Slam, stood out because, "it just had a great energy about it."
Recognized as "a guitar god in training'" by the Los Angeles Times, Knowles grabbed hold of the title and used it to name the band that he formed when he was 16. The current line up featuring a terrific rhythm section of friends Adam Jones on bass and Ross Doyle on drums gelled in 2006. Cast from the same mould as classic British power trios like Cream and Rory Gallagher's Taste, Back Door Slam is a distinctive voice that adds a Celtic accent to blues music's tradition.
Always in search of young acolytes to carry the torch, the talented threesome who are all in their early twenties have captured the imagination of blues fans everywhere. Since releasing their CD, Roll Away in the summer of 2007, they have toured constantly performing at major events such as Lollapalooza, the Bonnaroo Music Festival, the Montreal International Jazz Festival and the Ottawa Blues Festival. Their "Back to the Future Blues" has been a hit in opening slots for mega acts like Kid Rock, The Who, Styx and REO Speedwagon. Appearances on Jimmy Kimmel Live, the CBS Early Show and National Public Radio's World Café have spread their notoriety.
There has been no shortage of positive press. "Volcanic guitar chops, growling vocals and distinctive blues-rock songwriting," wrote Glide Magazine while "…searing, sizzling, guitar hero blues with swamp water in its veins," appeared in the pages of the Washington Post.
The band has tried to take the hype in stride and focus on what really matters, their live shows and becoming better musicians individually and together. "I like to keep my head down and try my best at what I do," comments Knowles with typical British understatement. "If other people like it as much as I like doing it, that's an honor."
Ken Wright