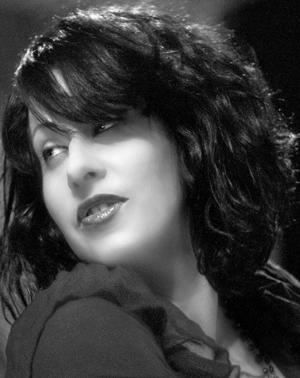 At first glance, the very idea of a blues band without a guitar player strikes the mind as a daring if not totally outrageous concept. But, Davina & the Vagabonds, a Minneapolis-based quintet driven by New Orleans horns and the campy purr of vocalist/pianist Davina Sowers, carry it off with such aplomb that you won't miss the usual six-string histrionics one bit.
Sowers grew up in Altoona, an industrial town in western Pennsylvania. Her mother was a folk singer whose fourth husband (Davina's adoptive father), introduced her to old blues and jazz recordings that he played on his vintage Victrola phonograph. "The rasp and the tonal quality put a twisted edge on those standards," she says of the sound and style of music that became so ingrained in her that you can hear its rustic authenticity in every song that she sings or records.
A free spirit with a BA in music, Sowers, 30, is a classically trained pianist with years of experience both performing and teaching piano. In contrast, she was also a busker who played the guitar on street corners for tourist tips in Key West, Florida.
It was in Key West that Sowers met her husband and bass player Michael Caravale (formerly with the Lamont Cranston Blues Band) and Caravale that caused her to move from the sand and palms of Florida to the snow and spruce of Minnesota in February of 2005.
Sowers is adjusting to the harsh northern climate. "I have a garden," she says. "In Key West it was all rock and sand … not a good mixture for tomatoes and such." The weather also gives her an excuse to stay indoors and write what she calls her "surly songs with a pre-war feel." 
Inspired by the vibrant Twin City music scene, Sowers, who has been called "the hardest working blues woman in frigid Minnesota," recently quit her waitress job at Applebee's to focus on fronting her first group, the Vagabonds. She can't praise them enough. "This band is genre busting," she declares. "Such creative energy, we are like a family." They were enormously popular at the last three Bayfront Blues Festivals in Duluth, Minnesota and represented the Greater Twin Cities Blues Music Society at the 25th annual International Blues Challenge in Memphis, Tennessee this past February.
Listening to Davina & the Vagabonds is like stepping into a wondrous musical time machine. They have the panache and superlative musicianship to recreate the retro sound and ageless appeal of golden age Americana in high-definition reality on stage for your immense pleasure and enjoyment.
John Hammer of Blue Monday describes them perfectly. "Davina & the Vagabonds play a hot jazz-blues-cabaret-soul-lounge-rock that warms the soul and just plain makes you want to dance," Not even a rabid but open-minded fan of blues guitar could ask for more. 
Ken Wright