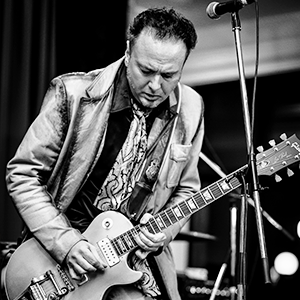 "Embracing the wanker factor" says David Gogo's describing the trademark guitar solos, slathered generously with blues rock goodness, that feature so prominently in his live shows. It's something that the Nanaimo, British Columbia resident deliberately set out to achieve on his latest CD, the deservedly Juno nominated, Vicksburg Call (2015). "It was a self-conscious thing that I would hold back on my solos when I was in the studio," explains Gogo about his hesitation to overplay on his albums. "But, that's what people like about my playing, so on this record, I just strapped on my old strat and "let her rip,""
Gogo's life compass found it's true north when he first touched a guitar at the age of 5. He got serious about the blues when he joined the dots connecting the British invasion bands that he admired to his father's record collection. Emboldened by a backstage meeting with Stevie Ray Vaughan, Gogo formed the Persuaders a band that gained notoriety opening for well-known blues acts like Johnny Winter, Buddy Guy, Albert Collins and supporting the Fabulous Thunderbirds on a European tour.
A record contract didn't fair as well. "Just a bad experience all around," says Gogo. "EMI Canada signed me but their first mistake was to start chasing trends rather than let me be what I was. My reaction was, "Why the hell did you sign me, I'm a blues guitar player, it's what I do!""
Since inking a deal in 1994 with independent label Cordova Bay Records, Gogo, 47, has been prolific, releasing 14 albums (12 studio and 2 live), receiving 5 Juno nominations and 16 Maple Blues Music (BMA) nominations. He took home the BMA trophy for Guitarist of the Year in 2002 and again in 2004.
Gogo tours relentlessly. "I have one band on Vancouver island, one band in Ottawa and one band in Holland," he says. "So, often, it's me flying back and forth to meet up with my band, then the next day, it's me flying somewhere to play solo."
But success hinges on constant improvement. "I believe my own material is getting stronger," Gogo says. "Playing guitar has always come easy to me but for the past few years I've also been concentrating on songwriting and my vocals. I've become more proficient in my songwriting." Gogo has a savvy ear for finding a blues element in virtually any tune. He's interpreted songs by Neil Young, Wilson Picket, Annie Lennox and even Michael Jackson on his records.
Seeking an authentic feel for his 2013 CD Come On Down, Gogo made a pilgrimage along the Blues Trail from Memphis to Alabama, visiting Stax, Sun and Royal Studios, pouring bourbon on Robert Johnson's grave and making a guest appearance on the famous King Biscuit Radio Hour.
Canada's archetypal blues rocker, Gogo has been pushing the parameters of traditional blues for 30 years. "If you choose to do this as a living you have to keep creating, you have to keep it fresh," he says. "I like to keep growing as an artist. You want to keep things current. Keep it fresh for us and the audience."
Ken Wright