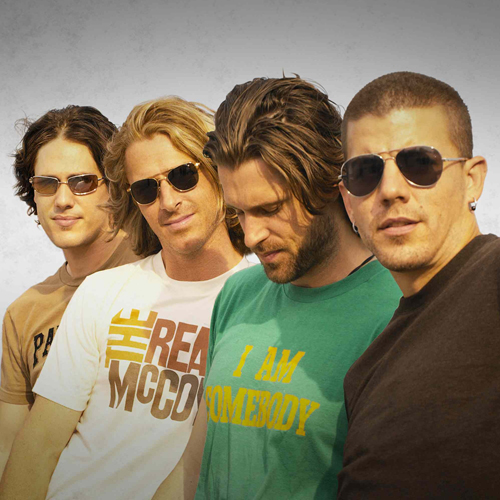 In the 1990s, Collective Soul was the crack cocaine of rock. The most played band on radio, their patented 3-guitars power wattage, irresistible turbo-charged energy, well-crafted, catchy songs and thoughtful lyrics appeared to be forged from a telepathic connection with mainstream consciousness. Fans came back again and again for a fix of their addictive brew. As of the band's 20th anniversary in 2012, they had racked up an impressive 7 #1 hits, 4 platinum plus albums and 10 million total albums sold. Incredibly, during one 7-year stretch, Collective Soul ravaged the Billboard charts with 19 different singles.
While they seemed to explode out of nowhere, the fuse was, in fact, 12-years long and the man who lit the match was Ed Roland, the son of a Baptist minister from Stockbridge, Georgia. Roland had studied song writing and guitar at Berklee College of Music in Boston, was active in local bands and worked at Reel 2 Reel Studios where he produced and engineered demos for emerging artists including himself.
Roland stood on his head to land that illusive record contract but always came up empty handed. "We had done all these conventions and had record people flying to see us and no one took interest," he says the frustration palpable in his voice. "Basically, I had just had enough of the whole thing. So I told the guys, "I'm dissolving the band – I do not want to do it anymore.""
When the song Shine from one of Roland's demos became an underground campus hit on college radio stations, he regrouped as Collective Soul, the name taken from Ayn Rand's book The Fountainhead. That precious demo was released independently as Hints, Allegations and Things Left Unsaid in 1993 (to the world on Atlantic Records in 1994).
With the suicide death of Kurt Cobain and the public relieved to embrace something more uplifting than the self-deprecating angst of grunge music, the timing was perfect. Fame trumped obscurity after Collective Soul performed at the 25th anniversary of Woodstock (They were also at the 30th anniversary in 1999.) and release their triple-platinum, self-titled second album which spent an amazing 76 weeks on the Billboard Top 200 charts.
Collective Soul has experienced their share of ups and downs through 8 studio albums, an 8-song EP, a greatest hits compilation and a live DVD/double concert CD recording with the Atlanta City Youth Orchestra. Their songs have been used on television, cereal commercials and movies. They broke trail brokering a deal with Target stores for exclusive sales of their 2007 CD Afterwords and enlisted a new generation of fans with the inclusion of the single Tremble for My Beloved on the soundtrack of the smash 2008 motion picture Twilight. They took their place in the Georgia Music Hall of Fame in 2009.
While it is no small task, the band attributes their continued success to staying focused and distilling 5 egos into one cohesive vision. Want to be a rock star? "You have to be realistic," advises Collective Soul rhythm guitarist Dean Roland. "You can't start chasing trends and have to be yourself. Be honest with your expressions and with the music … and probably get a good lawyer." www.collectivesoul.com
Ken Wright