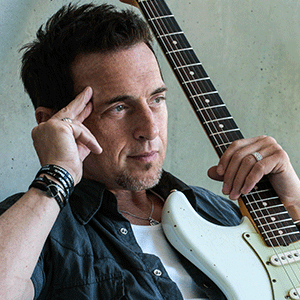 Is there a more versatile performer out there than Colin James? Blues champion, rock guitar marvel, swing revivalist and pop chart topper, he segues through tonal hues like a contented musical chameleon. More than 25 years and 16 studio albums into his recording career, whether exploring novel styles and revisiting familiar territory, James retains the magic touch. A member of the Canadian Music Hall of Fame, he's collected 6 Junos, 17 Maple Blues Awards and is credited with several gold and platinum albums.
From the time that Colin James Munn started playing the guitar as a youngster in Regina, Saskatchewan, self confidence and a sense of destiny were part of his psyche. "I think by 12 years old I had a pretty good idea this was going to be my life. Music I mean," he says. "I kind of went ahead like that was just how it was going to be, kind of like blind faith."
Growing up in a musical household, James came by his eclectic tastes honestly. "Swing, blues, rock, they're all me," he notes. "It's all my own personal taste. I listen to a lot of stuff and I want to play it as well."
Involved with bands since the age of 13, James played the penny whistle and mandolin, busked on street corners, flirted with Celtic music and bluegrass. He quit school in grade 10 and moved to Saskatoon where he formed a group called the Hoodoo Men. James caught a break early, touring with Stevie Ray Vaughan who suggested a truncated name because "Munn" sounded like "Mud" over a sound system.
An instant success, his 1988 self-titled debut, the fastest selling album in Canadian history at the time, landed James touring slots with The Rolling Stones, Little Feat, Steve Winwood and Robert Plant. "It was mind blowing," says James.
Though never one to rewind the tape, James could reflect on career milestones, those first hits from Sudden Stop (1990), a decade of Jump blues with the Little Big Band, the acoustic vibe of National Steel with good friend Colin Linden and a command performance for Her Majesty, Queen Elizabeth ll.
James continues to eschew pigeonholes, to challenge himself artistically and to stay ahead of the curve. After two successive rock albums, he released Hearts on Fire (2015), a slow-burning, song-oriented album with plenty of acoustic guitar. "I think people who have followed me this far know what to expect," he says. "I embrace all my different sides now. I love being able to branch out and do different things – that's what keeps it interesting."
Canada's quiet superstar, James goes about the business of making dependably excellent music his way, etching his name into our cultural chronicle. He's as passionate as ever about his craft. "My drive is the same as it's always been," he says. "I can't wait to make other records. I know the industry is another story, but thank God I've always been a live player."
If there is one consistent thing about Colin James, it's his unimpeachable stage reputation. His appreciative throng of fans always go home knowing they got their money's worth.
Ken Wright