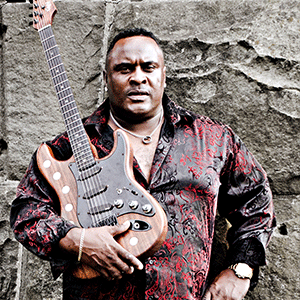 Carson Downey is carrying on a generations-old tradition in Canada's Maritime Provinces of looking to family and your Maker for strength and music for survival and personal expression. "You never know what's ahead," he says, "and you just thank God for giving you a chance to live today."
Downey grew up in the 1960s with five brothers and four sisters in North Preston, a predominantly black community near Halifax that was poor in cash but rich in spirit. Things were difficult. Racism was common. They lived crowded together into a small house heated by a wood stove and an oil furnace and lit by kerosene lanterns.
Downey's mother bought him a guitar when he was 11 years old. He began playing in school groups, then in an R&B outfit. Downey got his first taste of the blues as a side man with legendary East Coast blues and roots artist, Joe Murphy. "I brought a spark to his band, says Downey. "Maybe I wasn't as seasoned as some, but I was burning with the fire of a man with a new love."
Four years later, he put together his own trio with his brother Murray on drums and his brother-in-law on bass. For the next fifteen years, they paid their dues wood shedding for hours and toughing it out in bars around Nova Scotia and New Brunswick. Their tight, driving blend of hard-edged electric blues and sweat-drenched rock made them a regional triumph.
In the process, Downey developed a signature style. "I really like all those heavy guitarists like Jeff Beck and Hendrix," he says. "But I try to get away from those guys as I want to get a sound for Carson Downey."
In 1998, with Marlowe Smith now on bass guitar, the band was discovered while performing at the East Coast Music Awards by Andrew McCain, president of Toronto-based Loggerhead Records who was struck by their unmatched energy. Three weeks later he signed this "diamond in the rough" to a record deal. All the Way, twelve well penned and executed original songs, was released to significant radio play in 1999. Burnin" Up Live followed on its heels. Typical of the rave reviews, Scene Roots & Blues Magazine hailed them as "An electrifying soul shake down … this is the real deal."
In 2000, Downey was named the Fender East Coast Guitarist of the Year. In 2001, the band won Maple Blues Awards for Best New Artist and Drummer of the Year as well as East Coast Music Awards for Best Blues Group and Best New Artist. The Dutch Mason Award for "exceptional contributions to the preservation of Maritime blues music," was especially satisfying.
It's been an uphill slog for the band, but following a long studio drought, they released their third CD, Catch Me If You Can last fall.
But, it's what these three mettle-tested firebrands do live, burning up stages with ferocious fret work and powerhouse rhythms, that keeps fans coming back for more. Your in for a fun, smile-filled ride with the Carson Downey Band. Just don't expect to catch them!

www.carsondowney.ca
Ken Wright