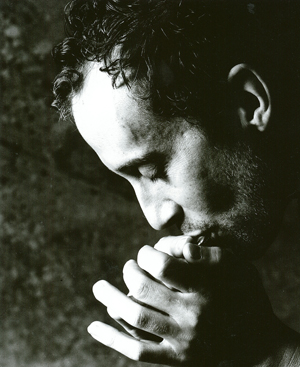 The youngest of five children, Carlos del Junco, whose surname means "of the reeds," was born in Havana in 1958. By the time that he was a year old, he had immigrated to Canada with his parents who opted to trade the increasingly uncertain political climate of Cuba for the always uncertain meteorological one of Toronto, Ontario.
Del Junco played his first note publicly on the harmonica at a high school talent night when he was fourteen. It was the "sound", the "real human voice" and the "emotion" of the pocket-sized instrument that first caught his attention. But, there was also something intriguing about it that appealed to his "eclectic tastes." "It's an obsession with something so small, and trying to get the sound that you want," he explains.
After graduating with honours with a major in sculpture from the Ontario College of Art, del Junco was faced with an artistic quandary. Should he follow the shapes and textures that he saw in his mind or the ones that he heard there? For a time he managed to do both, matting and framing posters in a local poster shop while developing as a musician by performing with ace Canadian harmonica players Michael Pickett and Rollie Platt and blues guitarist "Buzz" Upshaw.
In 1993, del Junco took the plunge, competing at the Hohner World Harmonica Championship in Trossingen, Germany. Remarkably, he won two gold medals being judged best in the world in both the blues and jazz diatonic categories.
The most eye-opening experience of del Junco's early career came in 1995 when he spent two months in Chicago learning a technique called "overblowing" from jazz harmonica guru Howard Levy. Now a recognized maestro of the method, del Junco can play in all twelve keys on a standard ten-hole harmonica. What's more, he is able to "bend" notes, altering their pitch. Put another way, del Junco can do on the harmonica what a piano player can only dream about, find notes between a black key and a white key.
His creativity liberated, del Junco set his astonishing virtuosity and unmatched invention to work, equipping the devilishly dynamic harmonica with a sophisticated air and a glorious, more expansive sonic and emotional vocabulary. Together, they roam a veritable Milky Way of musical possibilities presenting and developing ideas rather than simply playing notes.
Del Junco has released seven CDs during the past fifteen years. Each (including his latest Steady Movin') is a genre-zapping fusion of blues, Latin, bluegrass, jazz, country and classical elements that has critics and fans scrambling to find descriptive superlatives. Consider too, that in the twelve year history of Canada's Maple Blues Awards, del Junco has been named Harmonica Player of the Year seven times.
Fans needn't concern themselves with the technical talk. Just sit back and enjoy the magic. "Its all roots music," del Junco insists. "Its good toe-tapping stuff with an emphasis on good melodies and great rhythms."
Ken Wright