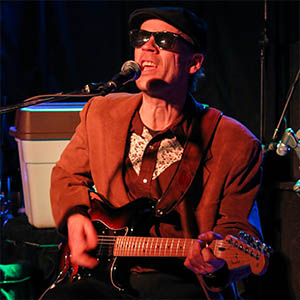 As sensory pleasure, music is a very subjective thing. But for the willing, it also presents unlimited possibilities for discovery beyond your listening comfort zone. Such an adventure knocks loudly with award winning Thunder Bay musician, song writer and blogger Camden Tiura, an individual who definitely performs both inside and outside the box.
His parent's record collection, piano lessons, violin lessons, recitals, Tiura's introduction to music was pretty conventional. Then things changed. "It wasn't really until grade 10 that I got my first guitar and really started to put some time into it and taking private lessons as well as guitar classes in high school," he says of his heightened interest. "My experience in those classes and with the people from high school really shaped my outlook for music. That was the biggest thing for me."
Tiura's first serious effort focused on an underground punk metal sort of band called the Speedway Detectives. That lasted a decade (1996 to 2007). "It wasn't until after that that I started pursuing other types of music and following up on other influences," he comments. Starting in the summer of 2006, Tiura spent two years with the Overnight Sensations performing 300 gigs around central Canada and the American Midwest and opening for name blues bands like the Kinsey Report and Studebaker John.
2008 found Tiura in Toronto attending the Royal Conservatory of Music, studying privately with some of the city's best jazz musicians, sitting in on jams at Grossman's Tavern and performing with The Camden Blues Trio and as a solo artist. For a short time, he was a member of The Strange, winner of Best Rock Band at the 2010 Toronto Independent Music Awards.
Tiura moved to St. Catharines, Ontario in 2009 and enrolled in General Arts & Science at Niagara College. After graduating, he returned to Thunder Bay in 2012 and formed the Camden Blues Band. The groups most recent albums are To Live & Die in P.A. (2013), Blacklisted Blues (2013) and Discussions (2014). Tiura takes a traditional approach to recording. "Live off the floor, or even live off the stage, is definitely my preferred way to do it," he says. "Just go in there and hit it."
Sponsored by the Thunder Bay Blues Society, Tiura represented the city in the solo/duo category at the International Blues Challenge in Memphis, Tennessee this past January. It was a great experience. He was impressed by the level of talent he encountered and enjoyed doing the tourist thing at Sun Studio, the Stax Museum and Memphis Slim's House.
Blues Festival goers can expect something different, a blend of Tiura's many influences, blues, jazz, rock, punk and funk, in a largely original and instrumental performance. "It's very high powered and I think people can really tune into that energy of the show," he says. "When I get up there I give it everything I've got and make sure it's interesting and entertaining."
Being an independent musician keeps Tiura on his resourceful and creative toes. "It's definitely a bit of a challenge," he says. "But, music is music man, it's all worth it!" www.camdenblues.webs.com
https://camdenblues.bandcamp.com
Ken Wright