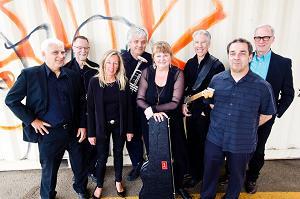 Together in various forms for several years, this band of well known local musicians is constantly reinventing themselves. With a full rhythm section, horns and wonderful vocal harmonies, Boardroom Gypsies are sure to get Saturday morning at Bluesfest rolling with a powerhouse set of rhythm and blues!
Cheryl Grant: (Vocals)
For inspiration, Cheryl holds fast to her lifelong love of folk roots music that has found a personal comfort zone in rhythm and blues. The experience of a wide variety of local performance opportunities with extremely talented people whom she both loves and respects has been an honour and a privilege.
Nancy Hamilton: (Vocals)
Nancy discovered her love for singing in high school while performing in local coffee houses. Her musical journey continued with a group of western-based musicians. Back home, Nancy's versatile voice has been a highlight in rock bands and at weddings and receptions. She feels very blessed to be part of this incredible group of musicians and excited to be singing the music she loves the most at this year's Bluesfest.
Paul Hessey: (Drums)
Paul has laid down a steady beat for many different folks over many years. In addition to holding down the groove for the Boardroom Gypsies, he is the lead drummer for The Roy Coran Big Band, his own jazz trio, PH Balance and, on occasion, with Mood Indigo. This will be Paul's seventh Bluesfest appearance.
Don Skochinski: (Bass)
Don first performed in public in the 1960's at the age of 15 playing a Fender bass in a rock and roll cover band. Still in high school, he joined the Thunder Bay Symphony Orchestra as a cellist while continuing to play bass with local progressive rock bands, big bands and jazz combos. Don earned an Honours Bachelor of Fine Arts in cello performance at McGill University and a Master of Fine Arts in cello performance at Boston University. After performing numerous solo and ensemble situations in the New England states and with many symphony orchestras in southern Ontario, Don returned to Thunder Bay to become the first and only locally raised professional orchestra musician in the TBSO.
Don Jewitt: (Keyboards)
Born into a musical family, Don picked up the torch from his father who dedicated his life to music. Don studied classical piano with a minor in cello at Brandon University. He has released two CDs of songs that he wrote/co wrote, arranged and co-produced. Don has played with members of the Boardroom Gypsies for many years and is highly respected in the music circles of Thunder Bay.
Bill Ulakovic: (Guitar)
Self-taught, Bill learned to play the guitar in high school listening to a myriad of jazz and rock guitarists and playing with many local talented musicians. He has enjoyed the challenge of performing with numerous jazz combos including The Roy Coran Big Band and Occasional Jazz, accompanying jazz and pop vocalists and playing in local rock bands. He is thrilled to be playing Saturday's opening set for this year's Bluesfest as a member of Boardroom Gypsies.
Bob Stewart: (Saxophone)
Sax man, Bob Stewart, discovered a passion for music when he was introduced to the tenor sax in high school. Following graduation he studied jazz at North Texas State University. He played professionally before returning to Thunder Bay where he carried on his interest in the saxophone playing with local bands. Music continues to provide a creative outlet and is an important interlude in his busy life.
Ted Vaillant: (Trumpet)
From The Thunder Bay Symphony to back up for the Temptations, for almost 40 years, Ted has played the trumpet in every possible musical genre. The current director of The Roy Coran Big Band, he leads a group of the city's finest musicians carrying on a tradition that began over 50 years ago. Ted is also a music director and teacher at St. Ignatius High School.
Submitted Profile