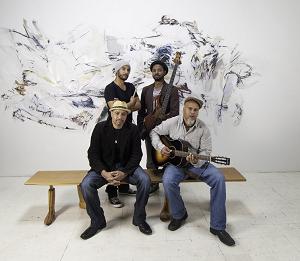 You could be forgiven for believing that direct, contemporary links to the roots of the blues had all but vanished into the mists of time. But, they do exist. And, their enduring legacy can be heard in Blackburn, a band of brothers, Duane (vocals, Hammond B3 organ), Brooke (guitar) and Cory (drums).
The Blackburn family proudly trace its heritage from the days of slavery in 1830s Kentucky to Owen Sound, Ontario via the Underground Railroad (The Act Against Slavery was passed in Upper Canada in 1793.) and on to Toronto. For over 30 years, their father, Bobby Dean Blackburn, was a seminal R&B keyboardist and singer on that city's Yonge Street strip. Now in his 70s, he's still performing. "We grew up around music," says Brooke Blackburn. "My dad would bring home rehearsal tapes so we would hear music all the time and he would bring musicians over all the time. When he wasn't at home, we knew he was on the road."
The brothers weren't spoon fed music like a dose of medicine. "It was never expected of us," notes Brooke. "It's just what we were around. Coming together as a band was just something we started to do organically." Their age differences contributed to group's stylistic evolution with hip hop from Cory (the youngest), blues from Duane and funk from Brooke. After some early shows with their father the siblings were burning up the Queen Street West African-Canadian cultural scene most notably at the Bamboo Club where they were regulars for 15 years and their current weekly gig at Joe Mamas.
Released in 2009, their first CD, Brotherhood earned a Maple Blues Award for Best New Artist. The band's second album, Brothers in This World (2015) was Juno nominated. Fourth Blackburn brother, Robert helped out with the song writing and background vocals. Recently, Duane has had a consistent presence on the list of Maple Blues Award nominees for his soulful vocals and atmospheric washes on the Hammond B3, reminiscent of the great Jimmy Smith.
Their tasty gumbo of blues, gospel, R&B and funk has a New Orleans vibe in the vein of Dr. John, The Meters and the Neville Brothers. As one critic said of the album. "It's all here, socially conscious original music with a pure message, funky beats to ignite any dance floor and collective musical prowess to rekindle why you fell in love with soul rich blues in the first place."
The Blackburn brothers are a mighty tight unit. "We have this synchronicity," says Brooke. "Cory can start a song, Duane can start a song, I can start a song and within the next two bars everybody's in, whoever started it. It's almost like a heartbeat."
Every August long weekend, Blackburn performs at the Emancipation Festival Picnic held in Owen Sound's Harrison Park. Established in 1862, the celebration of freedom will mark its 156th anniversary this year. Fittingly, both Brooke and his father Bobby Dean before him, have served as artistic directors the of the event staged where the family first settled in Canada, the northern haven of the Underground Railroad.
www.blackburnbrothersmusic.com
Ken Wright