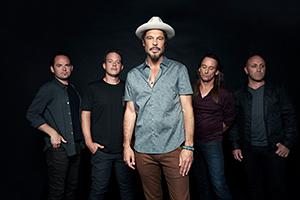 As clichés go, "Absence makes the heart grow fonder." has chalked up its share of air miles. Yet, it does reveal something truthful about relationships, even musical ones, that tire only to re-emerge stronger than ever.
Canadian-American rock band, Big Wreck was started in 1994 by Ian Thornley (vocals, guitar) and Brain Doherty (guitar) out of the apartment the two shared as students attending Boston's prestigious Berklee College of Music. When jamming increasingly took priority over classes, they dropped out of school, established the four-piece group in the New England area and, in 1997, signed with Atlantic Records.
Their double-platinum selling debut album, In Loving Memory Of scored well in both Canada and the USA but its 2001's follow up, The Pleasure and the Greed, was a commercial disappointment. Disillusioned, Big Wreck was scrapped. "We had really big dreams," says Thornley. "So, when things started to happen, it was really exciting. We did a lot of things our way, musically, certainly on the first album. It was a great time. And, of course everything sort of imploded. It stopped being fun."
Thornley moved to Toronto and did some serious session work on albums by Nickelback, Sara Harmer and Stephen Fearing before going solo and releasing two albums, Come Again (2004) and Tiny Pictures (2009), with his eponymous band.
Fast forward to 2010 when Thornley decided to approach his old friend and band mate, Brian Doherty. "I just missed him," he admits. "I called him, just to hang out but of course knew the chemistry would be there."
Doherty filled in on guitar at a Thornley concert, then on a sold-out tour billed as "An Evening with Ian Thornley and Big Wreck." Albatross was released in 2012 as a Big Wreck album. The title track reached #1 on the Canadian Rock Radio chart, a first for the band, justifying two tours of western Canada. Albatross and its successors, Ghosts (2014) and Grace Street (2017), all received Juno Award nomination for Rock Album of the Year. Appraising this string of successes, Guitar Player Magazine commented, "All of Canada is not big enough to contain Thornley's talent."
"I went for all the good stuff that's missing on rock records these days," says Thornley of his achievement. "I wanted to avoid falling into the formulaic cookie-cutter trap. That's not going to interest me so how can it interest the listener. I have to go with my gut."
An exceptional live band with a confessed "soft spot for beer-chugging rock anthems," Big Wreck was in its element this spring during a 35-date tour of North America to commemorate the 20th anniversary of their first album. "Something that is great about In Loving Memory Of is that it stands up today as well as it did when it was released," Thornley says. "It just seems to have a bit of everything."
For the Big Wreck front man, chasing the ever-illusive creative process is the ultimate trip. "It's still the same thing. I'm still looking to get off and get that feeling," says Thornley "I'm still searching for the perfect thing. I hope I never find it."
Ken Wright