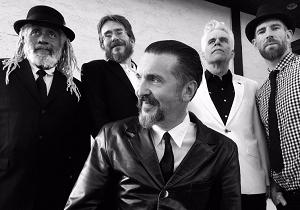 Gordie Johnson and his rag-tag Big Sugar band mates are a shameless bunch! For over 25 years, these musical omnivores have been grazing their way through a smorgasbord of blues, reggae and rock, taking chances, splicing genres together in surprisingly satisfying ways and unleashing them unapologetically on fans who lap up every note of their sweet aural cornucopia.
While Johnson doesn't see himself as an iconoclast, he is arguably one of the most diversely ambitious musicians that Canada has ever produced. In addition to being Big Sugar's vocalist and guitarist, roles he reprises in the Texas-based cowboy metal band Grady, he's also the full-time bassist for Canuck rockers Wide Mouth Mason and half of the gospel-roots duo Sit Down, Servant.
Always on the go, Johnson has produced albums for everyone from Taj Mahal and Gov't Mule to The Trews and Chris Duarte and added his session chops to efforts by Johnny Lang, Double Trouble and Ashley MacIsaac among many others. "I am making a cultural statement with music that incorporates all the things that came before us," he says. "And I am trying to just push it forward a little bit, in my own way."
Hailing from Winnipeg, Manitoba, Johnson called both Medicine Hat, Alberta and Windsor, Ontario home before settling in Toronto. After backing jazzy Molly Johnson for a spell, he formed Big Sugar in 1988. The band's eclectic signature sound evolved over time as members arrived with their influences in tow.
A self-titled album that appeared in 1991 on Hypnotic Records set them on the road to Top 40 radio chart glory with classic tracks like Diggin' a Hole, Ride Like Hell, If I Had My Way, The Scene and Turn the Lights On. Over a dozen happy returns in the studio, a DVD, Eliminate Ya! Live!, a performance at Woodstock 1999 and being hand-picked to open for AC/DC in Moncton, New Brunswick in 2015 are memorable Big Sugar milestones.
The band split after a New Year's Eve performance in Edmonton in 2003. But, in all honesty, how do you keep a band like Big Sugar off line for long? In 2010, they regrouped and continue to record and tour to universal delight. Just to keep everyone off balance, Big Sugar did an all acoustic tour in 2014.
Sometimes their ongoing success astonishes even Johnson. "What's so shocking to me these days is how many musician fans we have all over, even in places where we're not as well known like over in Europe," he says. "In Belgium, Holland and Germany, there are bands that started just because they saw us in the 1990s and they cling to our records."
Monstrous motorhead guitar, shots of blues harmonica and real-deal reggae beats with double neck guitars and flying rasta dreadlocks filling in the visuals, Big Sugar live shows are refreshingly different and so, so cool.
"It's an enviable position to be able to have so many creative avenues open to oneself and to have each of them so well respected and in such high demand," says Johnson of the rewards of versatility. "I just do what I do."
Ken Wright