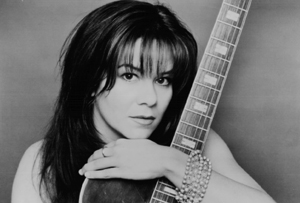 A rare performer in any day or age, Becky Barksdale embodies in one individual the vast Texas blues guitar tradition of a Freddie King, the flirtatious sensuality and assertive independence of a Bessie Smith and the raw passionate vocals of a Janis Joplin. Surprisingly, those conventions seem to have seeped into her pores rather than emanating from any specific source. "My biggest influences were all of the other musicians I played with," she asserts.
While, like Joplin, Barksdale was born in Port Arthur, Texas, she is currently based out of Los Angeles where she is a favourite on the West Coast blues and R&B circuit.
It was Barksdale's grandfather who gave her a guitar when she was twelve. A professional at sixteen, she learned to play and was introduced to the blues gigging with local musicians and performing in a number of regional bands. After nailing down guitar and vocal duties with boogie-blues masters Canned Heat, Barksdale landed the lead guitar spot with Michael Jackson adding some fiery punch to the King of Pop's 1993 Dangerous World Tour.
The first artist to be signed by the House of Blues Music Company, Barksdale appeared on two compilations on the label before releasing Real Live (1999), a gripping mélange of electric blues and steamy rock that easily justified the growing hype crowning the Red Hot Queen of the Blues. Cowgirl Blues (2002), an EP of five original songs unearthed her country roots (two great uncles were members of the Sons of the Pioneers), while Blues Revue Magazine declared that there was "more emotion packed" into the dozen real-deal blues tracks on Out of the Blue (2003) than "racks of others."
Those unfamiliar with Barksdale's discography will certainly have heard her scorching guitar work and gritty, soulful vocals on numerous trailers and soundtracks for acclaimed motion pictures like Munich, Cold Mountain, Finding Neverland, Mission Impossible lll, Flight of the Phoenix as well as many of the latest scream-inducing horror flicks.
Descriptions of Barksdale's live shows from sources such as Guitar Player Magazine ("unearthly intensity") and Fender Frontline Magazine ("soft crying bends," "raunchy" riffs) really don't do justice to what this siren with a tell-it-like-it-is attitude does when she commands a stage bare foot. Tough, teasing vocals, pugnacious tone and solos that sting like well-placed uppercuts, even when Barksdale slows down the tempo she turns up the heat.
Let's call on genuine fans for the definitive depiction. "Like Stevie Ray Vaughan with a sex change." "Some of the most sensual blues I've ever heard… it will make your blood run hot… cold showers optional." "Although I haven't smoked cigarettes in thirty years, I NEEDED one after her performance…Whoa!"
Ultimately, for Barksdale, interacting with an audience is more fun than toil. "This may sound weird," she insists, "but often I'll walk off the stage and won't know what happened. I get into this zone where I feel completely connected with everyone in the place and nothing else matters. It's the ultimate vacation."
Ken Wright