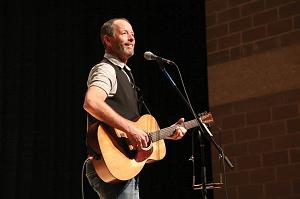 In 1987, married with 4 kids, his fledgling musical career on the financial ropes, Barney Bentall found himself in a difficult situation. Egged on by a voice in his head that told him, "ya gotta give this one more try," and bankrolled by money scraped together by his band, The Legendary Hearts, he was meeting with executives from Columbia/Sony Records. "I was desperate and also happened to have had my two front teeth knocked out," he confides. "Hell of a salesman. But, there is power in a song." That fatefully titled song, Something To Live For, sealed the deal, charted in the Top 20 and put Bentall and the Legendary Hearts on the fast track to Canadian rock 'n roll fame.
Born in Toronto in 1956, raised in Calgary during the 1970s, Bentall was the black sheep of the family. His grandfather built the multinational Dominion Construction empire, his father was a Baptist minister.
Bentall was in grade 9 when he started playing the guitar, even taking some lessons, his teacher improbably named Cowboy Slim. Still lukewarm about music, he attended university, started a barbwire fencing company, a firewood business, traveled and played in folk clubs.
In Vancouver at 21, a young man with growing family responsibilities, Bentall took seriously to song writing and visions of being the next Stephen Stills. His group, Brandon Wolf played biker dances and strip clubs around the city to pay for studio time. They released two EPs and a full-length album but like car tires spinning on gravel, never gained lasting traction.
Bentall began performing as the Legendary Hearts in the mid 1980s taking the name from the title of Lou Reed's 1983 album. Their 1988 eponymous platinum-selling album won a Juno Award for Most Promising Group of the Year. "The next 10 years were a fun, exciting and soul-stretching ride that we all somehow managed to survive," recalls Bentall. "There was never a manual written for this kind of thing." Through that decade the band were reliable hit makers releasing 4 more gold records.
In 2000, badly in need of a change, Bentall made a career u-turn and moved onto a 160 acre cattle ranch in the Cariboo region of central British Columbia. Physical labour was just the thing strengthening his appreciation for music and finding a realistic balance for it in his life. "It challenged me to go further in a simpler way," he says.
Seven years later, half joking that he missed the applause, Bentall was back, showing a more pared-down reflective bent, with the Juno Award nominated solo album, Gift Horse. The Inside Passage (2009) and Flesh and Bone (2012) continued in that vein.
Bentall fills his time with side projects including the gospel, bluegrass oriented High Bar Gang and two groups, The Cariboo Express and The Grand Cariboo Opry, that raise funds for charities.
"I have a family and it gets bigger and bigger so in a way I'm settled and that's really important to me," he says. "But as far as exploring the world or exploring my music, I'm not content to settle down at all."
Ken Wright