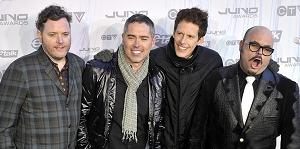 Where on earth, other than Canada, could a band with a name like Barenaked Ladies (BNL) forge themselves into cultural icons of the Great White North on the merit of albums with titles like Gordon, songs about a Duct Tape Heart and lyrics on the joys of Dijon ketchup?
Three decades of sold out concerts, 14 studio albums with collective sales of 14 million copies, 8 Juno Awards and numerous Grammy Award nominations tell only part of the story. The rest hinges on that word "merit." These boys have talent!
"I don't think there's a secret," says BNL guitarist and vocalist Ed Robertson. "It's work. You've got to respect each other, you've got to give each other space but you also have to support each other. Right from the beginning we didn't want to burn out. We wanted to keep making music."
BNL started life in 1988 in Scarborough, Ontario as the acoustic duo of Robertson and Steven Page. They attended the same public school but first met at a Harvey's restaurant after a Peter Gabriel concert. The "Barenaked Ladies" idea came purely by chance when the two were tossing around fictitious band names during a Bob Dylan concert.
Unrehearsed, Robertson and Page's earliest shows featured the between-song ad-libbing, light-hearted banter and improvised rapping that are still staples of BNL's live performances. The zany juxtaposition of tongue-in-cheek irreverence, off-beat humour, lyrical intelligence, razor sharp musicianship, barbershop harmonies and full-bore fun that has made BNL so unique and endeared them to legions of fans around the world ensued from there.
By 1991, these unlikely superstars were a quintet peddling their first commercial release, a demo called The Yellow Tape. Snubbed by every label they approached, it eventually became the first indie release to be certified gold in Canada.
Issued on Reprise Records in 1992, the troupe's debut studio album, Gordon moved one million units. But, it was 1998's quadruple platinum-selling Stunt that elevated BNL from a quirky garage band to grasping the grail of main stream acceptance. Stunt reached #3 on the Billboard Hot 100 in the US and it's smash hit single, One Week topped the charts. Over time, BNL embraced an array of genres including folk, pop-rock, jazz, celtic and funk.
In 2007, the band penned the theme song for the immensely popular TV series The Big Bang Theory. Two years later, BNL became a foursome when founding member Steven Page left to pursue a solo career.
To celebrated their 25th anniversary, BNL took part in the "first ever space-to-earth musical collaboration" with Canadian astronaut Chris Hadfield. In 2014 they composed a new song, Our Blue Dot for the David Suzuki Foundation and their Blue Dot tour.
BNL were groundbreaking technology geeks, using interactive press kits, blogs, podcasts, on-line contests, social networking and USB flash drives to promote and sell their music.
"Our fans have been on this journey with us, so we've kind of grown up together," says Robertson. "It's a special relationship, with the band and our fans. Every band says that they have the best fans but we actually do. And we know that because other bands tell us that."
Ken Wright