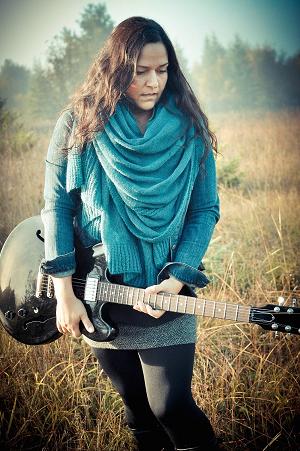 Sitting as it does on the north shore of Lake Superior at the northern terminus of Highway 61, Thunder Bay's musical culture has been impacted by a distinctive set of influences which include aboriginal, ethnic, blues, country, folk, classical and rock and roll. Over time, a local musical expression has evolved that is rich and vital, as high-brow as a conductor's baton and as earthy as a peaty bog. A complimentary confluence of street credentials and lettered learning, Arley Hughes is an artist tailor-made for the temperament of this tonal landscape.
A hint of Hughes' musical destiny manifested itself early on. "By the time I could sing, I was singing non-stop," she recalls. Channeling some of the great females of blues and jazz like Etta James, Nina Simone and Billy Holiday, Hughes apprenticed as a member in local groups including Tender Mercy's R&B Band.
In 2006, she received her Honours Bachelor of Music, Classical Voice from Lakehead University and completed her Bachelor of Education the following year. Post-graduation she taught voice, piano and guitar in her north-side studio from 2003 to 2016.
Hughes really came into her own singing with blues rockers Loose Cannon, honing her natural vocal assets and fine tuning her stage presence from performance to performance. The band appeared at the Summer in the Parks concert series and headlined the Canada Day celebrations in 2014 and performed at the Thunder Bay Blues Festival in 2015. Sponsored by the Thunder Bay Blues Society, Loose Cannon represented the city at the International Blues Challenge (IBC) in Memphis, Tennessee, also in 2015.
In late 2016, Hughes reached the point on the evolutionary arc of her career where she took self confidence in hand and made the leap to the next level as a solo artist. "I got quiet for a few days and then turned to my husband and said, "It's time,""she says.
That led her to Ian McLeod and Backlanes Audio where she recorded Parts of Me, an album of original tunes of personal storytelling and human feelings. Kirsty Salmi's Walleye Magazine review was filled with praise. "Hughes debut album demonstrates she's got the chops to be in a league of her own. The Thunder Bay born singer, songwriter weaves a gorgeous album with gossamer vocals like silk amidst woodsy, organic acoustic melodies accompanied by bits of bluesy harmonica and dreamy piano."
Hughes toured in support of the album as far west as Fernie, British Columbia. Again, sponsored by the Thunder Bay Blues Society, she made her second trip to the IBC in Memphis this past January.
Hughes is currently working diligently, on an underground folk album that she hopes will help finance a professional recording of original blues songs.
Arley Hughes is a positive role model for others considering a career in music. "Just do it, no matter what," she advises. "In five, ten years, if you keep making steps, you'll be a little further ahead than you were. Finding a community to feel supported to take those steps is important. The smallest steps are the most important ones, and this is a great place to take them."
Ken Wright