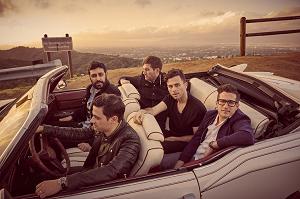 "I don't think any of us could have predicted we would get this big. I feel like we've earned every listener, every fan." Who would have thought? Obviously, not even Max Kerman, the Arkell's singer, guitarist and principal song writer saw success on their horizon.
Time and place didn't hurt. It was 2006 when five McMaster University students began rehearsing on Arkell Street in Hamilton, Ontario. The band got a leg up by the mid 2000's Canadian indie-rock revival that was in full swing at the time. Armed with a high energy rock show and songs about relationships and social justice issues, they tapped into the rust and soot patina of Hamilton's steel mill legacy and the angst of the ever-growing ranks of the over qualified and under employed. But, the Arkells were also students of the classics, writing songs with titles like John Lennon, filching Elton John lyrics and sliding Motown covers into their set list.
Studio albums Jackson Square (2008) and Michigan Left (2011) got the four-time Juno Award winners national attention. High Noon (2014), their most commercially successful release, was certified gold in Canada and opened doors to the USA and Europe. In 2015, the Arkells were the most-played band on Canadian alt-rock radio proving they had clawed a deep groove into mainstream listening.
But, current rock music was becoming too conservative and dull and predictability loomed. With their fourth album, Morning Report (2016) the band pushed their punkish passion into pop music's more innovative realm, utilising click-tracked rhythms, sampling, electronic pulses and multiple producers to achieve a more layered effect. "There's value in commonalities between music genres," says Kerman of the stylistic switch. "The reason I like it is because all of it is founded in good tunes with good lyrics. That foundation let's you dress it up and decorate it in different ways."
The disappearance of the $20 CD and people creating music on airplanes are the new realities of the music business. "It makes bands much smarter about how they are going to spend their money and more resourceful," says Kerman. "It is amazing these days, what I see some of our friend's bands do on lower budgets."
Social media is playing a bigger role too. "I think bands used to exist in this glamorized, otherworldly public perception but now there is a level of connection that makes it harder for bands to exist like that with twitter and facebook," says Kerman. "It is easier for bands to be honest with where they are at and how they work and how they live." Smart phones, e-mail and e-books facilitate staying in touch with friends and passing the time on the road.
The Arkells performed in front of our top athletes at the 2018 Winter Olympic Games in Pyeongchang, South Korea. Their song, Knocking at the Door was an unofficial anthem of Team Canada. In the clutch, the Arkells' are driven to excel on stage. "One of the joys of touring is trying to outdo your last show, your last tour," says Kerman. "Striving to "one up yourself" is a never-ending game."
Ken Wright