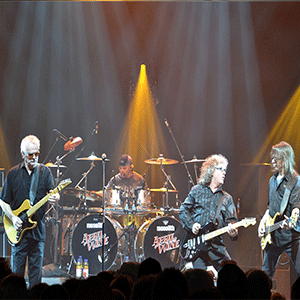 April Wine is a true rarity, a Canadian band that brushed the stratospheric heights of arena rock, but couldn't maintain a firm and lasting grip on them.
"Almost" is, perhaps, the operative word in their story. Dogged by internal conflicts, they went through more line changes than the average NHL hockey team during a game. Nominated 11 times for Juno Awards, including 7 for Band of the Year, they never emerged with a win. Panned by critics as generic, always on the cusp, they hovered just one big hit short of making it as a super group.
Unplanned and unintended though it was, by falling a little shy of the big time,"almost" defined April Wine's success in the only way that really mattered. They did some large venue performances with elaborate stage sets and glitzy lighting. But, their bread and butter were hundreds of shows they played in theatres and casinos on a Saturday night for millions of people in mid-size-city North America who became fervent fans.
April Wine started as a family affair, brothers David and Ritchie Henman, a cousin Jim Henman and Myles Goodwyn, in Halifax, Nova Scotia in1969. They called themselves April Wine simply because the two words sounded cool together.
Misreading a politely worded rejection of a demo tape, on April Fool's Day 1970, they packed up their belongings and headed for Montreal where nothing awaited them. Undeterred, the band stepped up, performed well at area gigs and signed with Aquarius Records later that year. Their first album, self-titled, did well enough to justify a second. With the hit single, You Could Have Been a Lady, April Wine came sprinting out of the starting blocks.
Strong melodies, pleasing harmonies, rocking tunes, sentimental pop ballads, guitars pulsing in overdrive giving them plenty of oomph, April Wine worked a formula and took it to the bank. They opened for the Rolling Stones, Nazareth, Rush, Journey, Styx and Heart. Sixteen studio albums, 3 live releases, numerous compilations, a boxed set, a live DVD, 5 platinum or multi-platinum albums in Canada, 21 top 40 singles with over 7 million records sold, the stats are impressive.
With cracks in the band's cohesion widening and techno-pop plundering their audience, April Wine announced a "Farewell Tour" in 1984 only to reunite 8 years later. Four subsequent studio albums, the most recent being Roughly Speaking (2006), have generated moderate sales. But 37 years on, their touring durability is still surprisingly strong drawing crowds to 80 to 100 shows each year.
Elite members of the Canadian Music Industry Hall of Fame (2009) and the Canadian Music Hall of Fame (2010) and the recipients of a Lifetime Achievement Award (2009), April wine is the quintessential Canadian rock band. For fans, enduring hits like Tonight Is a Wonderful Time to Fall in Love, Roller, Anything You Want You Got It, Enough Is Enough, Sign of the Gypsy Queen and I Like to Rock are a nostalgic link to high school days.
So, here's to April Wine, to rock 'n' roll their way and to "almost", the closest most of us will ever get to a brush with greatness.
Ken Wright