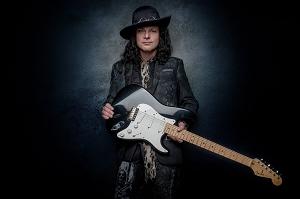 Anthony Gomes brings a refreshingly liberal outlook to blues music, one validated in both the learned halls of academia and the hard-knocks classroom of life in the trenches.
"The blues is a wide spectrum and all points of view and perspectives should be celebrated," says Gomes who, as an undergraduate at the University of Toronto, earned an award for the highest overall academic grade point average by a history major. Published in 2014, his master's degree thesis on the racial and cultural evolution of blues music was nominated for the Best Blues Book of the Year by Blues 411.
Gomes was only 12 when his mother was diagnosed with paranoid schizophrenia. To cope with the impact of her illness, he sought solace in a black Ibinez Destroyer guitar. "Music at that point became my world," confides Gomes." "It taught me about love, it taught me about life, it taught me about heartbreak. It also taught me that everything was gonna be okay."
An aspiring blues man, Gomes headed to the ultimate source of hands-on education - Chicago, where he learned from the masters including Magic Slim & the Teardrops.
Breaking out, his solo career got off to an auspicious start in 1998 when Gomes' won the first annual Buddy Guy's Legends "Best Unsigned Blues Band" competition. Released later that year, Blues in Technicolor was the first of 12 CDs of high quality original songs that run the range from acoustic blues to high voltage blues rock to soul drenched country and gospel. Most have placed solidly on respected blues charts earning Gomes numerous award nominations including Electric Act of the Year in 2013 and 2016 from Canada's Maple Blues.
His latest CD, Electric Field Holler (2015), which Gomes describes as a "traditional blues but just jacked up to eleven," reached #1 on both Roots Music Report's Blues Rock Chart and ReverbNation's Global Blues Chart.
Believing that music's healing powers can make a tangible difference in the world, in 2010, Gomes founded the Music Is the Medicine Foundation. Funded by corporate and private donations, the non-profit organisation has sponsored song writing scholarships, music education programs and provided musical instruments to those in need. "I realized that music had been so good to me and such a healing force that I wanted to be in some small measure an agent of change and allow music to help people in the way it helped me and my family," says Gomes.
Constantly touring (17 countries and counting), the mercurial and flamboyant resident of St Louis, Missouri has received laudatory praise from critics and legends alike. "Hendrix on crank…all the soul of Otis Redding and the swagger of Steve Tyler," writes Blues Rock Review. "A very talented guitarist…and where did that voice come from?" chimes in no other than B.B. King.
"The blues is old but not tired," says Gomes in a pithy statement of fact. "It speaks as truthfully today and for this generation as it ever has." And speak he will, with pulse-stopping guitar solos and just-gotta-dance rhythms that will grab you with a badger's tenacity. Anthony Gomes is a contemporary blues crescendo!
Ken Wright