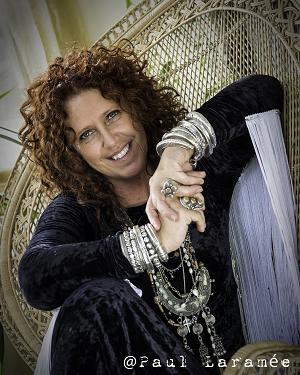 On January 23, 2017, at the 20th annual Maple Blues Awards, Angel Forrest achieved something quite remarkable, unprecedented even, when she was named the Female Vocalist of the Year for the fourth consecutive time. Trophies for Recording/Producer of the Year for her CD, Angel's 11(2016) and Songwriter of the Year (with husband, guitarist and band leader, Denis Coulombe) completed the Montreal native's hat trick.
"It sounds corny and crazy, but it was a magical experience," says Forrest of the making of her ninth album. A true multi-artist collaboration, its 11 original songs were matched to a pageant of 11 hot guitar players including Steve Hill, Paul DesLauriers, Steve Strongman and Corey Diabo with whom she had worked in the past. "They pushed me and I pushed them," says Forrest. "I like that." Ambitious in scope, Angel's 11 incorporates blues music's universal themes into a pastiche of styles from blues to rock to jazz. "The album is all about betrayal, about true love, about sex," she says.
With a career now into its third decade, Forrest is well known in La Belle Province for her trademark fiery red hair and grainy, smoky voice. Bonnie Raitt and Melissa Etheridge come to mind. She's naturally inclined to prowl the stage barefoot too. "It keeps me more grounded with the vibe of the whole scene," explains Forrest. "And, I like to dance a lot."
While she has already toured Canada, Mexico, Japan and Morocco in support of earlier albums, the recent acclaim is opening doors for Forrest. Now counted among the most powerful and evocative of contemporary blues singers she's stepping beyond provincial boundaries to establish herself as both a national treasure and an international artist.
Forrest takes pride in being an independent spirit. "I never took a lesson in my life and I'm not good at following rules," she claims. Her first recording was an album of blues classics titled Secondhand Blues (1996). Critics and the public started to pay attention with her tribute to the legendary Janis Joplin. Recorded at the Montreal International Jazz Festival, Forrest's interpretations were released as Angel Sings Janis Live. In 2005, she recorded Here For You, an album of original songs in English. Mother Tongue Blues (2013) netted wins for Female Artist and Blues Album of the Year in Quebec and was nominated for Recording of the Year at the 2014 Maple Blues Awards. Wonderland, is her distinctive Christmas album.
Appearances at the Montreal International Jazz Festival, the Tremblant Blues Festival and Blues sur Seine in France, brought Forrest the chance to share stages with Burton Cummings, The Beach Boys, Eric Burdon, Thornetta Davis and Larry McCray among many others. She was a highlight at the Toronto Blues Society's Women's Blues Revue in 2012.
In performance, Forrest is captivating and up-beat, looking forward to meeting some new fans, relishing a great time with them and winning their hearts. "Give me a few minutes to warm myself up. To let you into my bubble," she says. " You're going to enjoy the show as much as I am." www.angelforrest.ca
Ken Wright