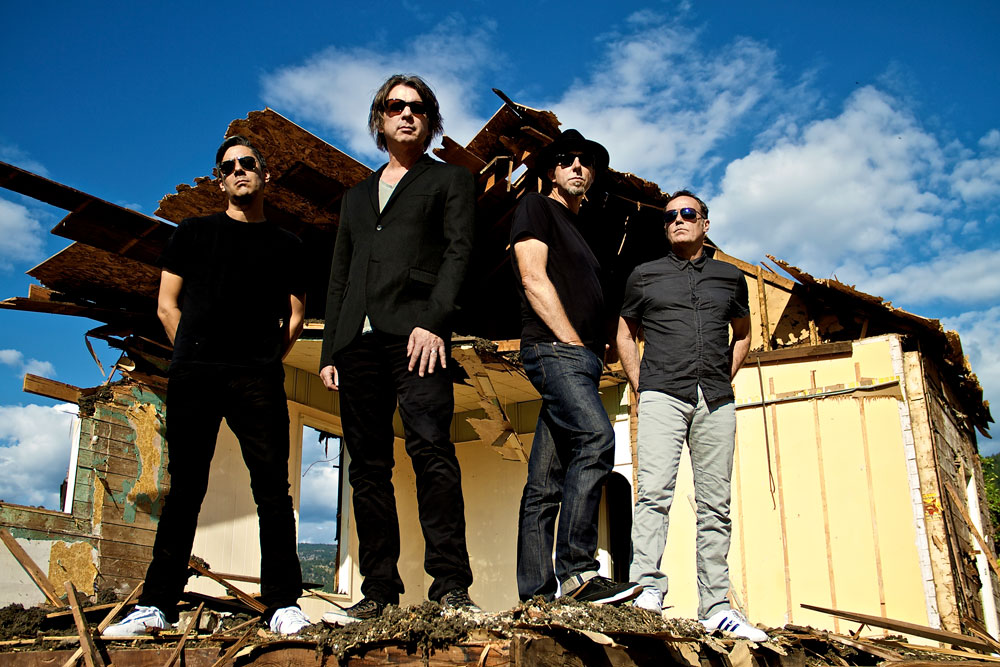 Sunday July 7
6:45 pm - 7:45 pm
Combining folk-pop and alternative-rock elements, 54.40 was formed in 1979 in the Vancouver, British Columbia suburb of Tsawwassen, by high school classmates Neil Osborne (vocals, guitar) and Brad Merritt (bass). Back then, Vancouver was a gritty port city with an insular feel, conducive to nurturing a unique musical scene. "That was kind of the secret of the place," explains Merritt. "It grew itself without outside influences. That created a natural identity."
Osborne and Merritt took the name from James K. Polks' 1844 presidential campaign slogan, "Fifty-Four Forty or Fight" that proposed pushing the western Canada-US border northward to the vicinity of the current border between British Columbia and Alaska.
They played their first gig as a trio at the Smilin' Buddha Cabaret on New Year's Eve1981. When the club closed in 1993, they bought its neon sign, used it on the cover art for an album and as a stage prop on their Canadian tours.
Considered by some to be the "godfathers of Canadian grunge," 54.40's recording career began tepidly with 4 tracks appearing on a compilation and the 6 song EP, Selection released in 1982. These and their first full-length album, Set the Fire (1984) established the band's early style of socially-charged lyrics, heavy drums and loud guitars.
Their second album, an eponymous effort from 1986, made them the darlings of campus radio, the college crowd hearing something refreshingly different, a band unafraid to experiment and kick aside musical boundaries. Commercial payback set in with Show Me (1987) and with it, a reputation of a band who could be relied upon to crank out both hit albums and hit singles. Comparisons to REM and Midnight Oil were inevitable.
Essential highlights and, indeed, the very heart of their 14-studio album discography, would have to be their 3 platinum-selling opuses, Dear Dear (1992), Smilin' Buddha Cabaret (1994) and Trusted By Millions (1996). In 1995, Hootie & the Blowfish turned 54.40's single I Go Blind into a Top 20 hit that appeared on the soundtrack to the popular TV series Friends.
The greatest hits collection, La Difference: A History Unplugged (2016) ushered in a softer side of a maturing 54.40, acoustic reflections on their music that allowed more intimate performances in smaller venues. "As a fan of artists who present their music this way and as a musician who presents our songs in that manner, it is a wonderful thing," says Merritt. "It allows people to experience songs in different ways and appreciate them in different ways."
54.40 was inducted into the Western Canada Music Awards Hall of Fame in 2011 and the Canadian Music Hall of Fame in 2017. Their latest album is Keep on Walking (2018).
Four decades into it, band mates have come and gone, but Osborne and Merritt still like their job description. "We write songs and perform them. That's what we do," says Merritt matter-of-factly. "And we create because we feel compelled to do so. It's not like we're trying to climb up the charts or sell a bunch of records. We're not trying to become famous."
As for the unintended notoriety, too late, it's already happened! www.5440.com
Ken Wright