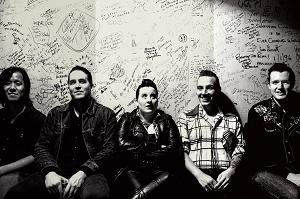 The 24th Street Wailers are turning back the clock and the radio dial to the 1950s when blues was dangerous, legendary teen idols like Elvis Presley, Bill Haley & His Comets, Buddy Holly and Little Richard made rock 'n' roll king, the saxophone player outdid the guitar player and Cadillacs were pink convertibles with fins a meter long.
Led from behind the drum kit by red-headed extrovert and powerhouse vocalist Lindsay Beaver, this retro quintet isn't just some nostalgic anachronism revisiting the sound of that vintage era, they're reclaiming it like they invented it in the first place. She candidly calls it "western swing, traditional rock 'n' roll and blues all mashed together.
Sometimes, necessity drives the bus. "I sing because I couldn't find a singer I liked and I drum because I couldn't find a drummer," admits Beaver of her unusual dual role. A proactive, take charge person, she just did it. Of course, nothing is as easy as it appears. "It took a while to be able to do it without passing out because drumming is so physical and singing, you've got to breathe," she adds. "But, I'm getting the hang of it."
Beaver grew up in Halifax, Nova Scotia. She had been singing much of her life but didn't pick up the drum sticks until she was 19. It was while earning a Bachelor's Degree in Contemporary Music at the University of Toronto that Beaver shared a little house on 24th Street in Etobicoke, Ontario with classmates who quickly became band mates.
Based on high energy, wow-factor shows that injected new life into showmanship and dance floors, the Wailers acquired a reputation as one of the hottest live bands in Toronto. Their performance at the Festiblues International du Montreal in 2011 won them a coveted headline appearance at the Blues Sur Seine festival in France. In 2012, they won the Toronto Blues Society's Talent Search and were semi-finalists at the Blues Foundation's International Blues Challenge in Memphis, Tennessee. They cut loose on 2 albums, Dirty Little Young'uns (2010) and Unshakeable (2012) and had heads bopping, bodies twisting and hips shimmying on tours across North America and Europe.
It was the spell cast by legendary Texas blues pioneer, Jimmie Vaughan that induced the Wailers, Beaver, her husband Michael Archer (upright bass), Marc Doucet (guitar), Jesse Whiteley (piano) and Jon Wong (tenor sax) to relocate to their current base in Austin, Texas. Their most recent albums, Wicked (Juno nominated 2014) and Where Evil Grows (2015), were recorded there and produced by Vaughan's bass player, Billy Horton. "I think this band is really just hitting its stride in terms of musicianship and song writing," claims Beaver.
They've found regional touring much easier in the Lone Star State. "In Canada, it's a long drive across the country but here you can hit town after town and it's not such a long drive," says Beaver who has also taken up with Austin country outfit, the Hot Damns.
It's time for some gritty fun. So, get up out of those chairs. We're going to jive, jump and yes, wail with the 24th Street Wailers!
Ken Wright