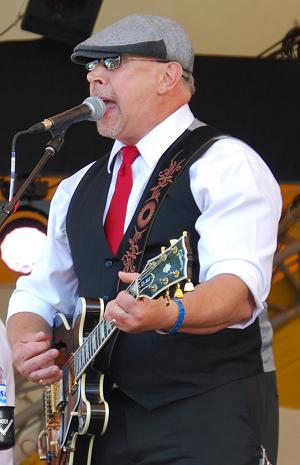 Sunday July 7
12:30 pm - 1:30 pm
Pick a music scene anywhere and you'll encounter those people who stand out for their positive attitude, their exemplary work ethic and their efforts to improve things for everyone concerned. When it comes to blues in Thunder Bay, James Boraski is such an individual.
Boraski's day job with Fisheries and Oceans Canada first brought him to Thunder Bay, Ontario (2000 to 2004) and then on to Inuvik and Yellowknife in the Northwest Territories.
The Land of the Midnight Sun was more conducive to songwriting and jamming for Boraski who rolled up his sleeves and immersed himself in the Arctic music scape. In addition to being a music director, show producer, emcee and performer at many events, Boraski was the Executive Director and Vice president of Music NWT and served on the Board of Directors for the Western Canada Music Alliance.
In 2004, he formed James Boraski & MomentaryEvolution (JB&ME) which became a proving ground for many of the region's musicians. Bolstered by a NWT Arts Council Grant, in 2009, Boraski released his first CD, NVR2L8 (Never Too Late) which was featured at Canada's Northern House during the 2010 Vancouver Winter Olympics.
Boraski returned to Thunder Bay in the fall of 2011 and reformed MomentaryEvolution. Co-produced with Jack de Keyzer, Boraski released his second CD, Comin' Home in 2013 to excellent reviews and major air play on traditional, satellite and internet radio stations. It settled in at #6 on the list of the Top 10 Canadian Blues Rock Albums of the Year as compiled by the Blues Underground Network and represented Thunder Bay in the Best Self Produced CD competition at the International Blues Challenge (IBC) in Memphis, Tennessee in 2014.
JB&ME's list of achievements is ever growing. They opened the Thunder Bay Blues Festival in 2014 & 2016, headlined the Canadian Lakehead Exhibition and performed at the Waterfront District Rib Fest and Fort William Historic Park's New Year's Eve gala. In 2015, JB&ME made it into CBC's Top 220 bands in Canada in the Searchlight Contest, and they were inducted into the American Heritage Blues Hall of Fame as a Master Blues Artist and Band. Boraski's acoustic duo, Pair of Sixes, with Ed Drotar represented Thunder Bay at the IBC in Memphis, Tennessee in 2015.
As for his appearance here in 2019, Boraski laughs saying "Not one of the bands I've put on this stage has been the same. MomentaryEvolution is a concept as much as it is a band name, and at times it can become a self-professing prophecy… sometimes it's a last minute evolution as to who is going to be on stage with me – but I can guarantee you a lineup of stellar musicians and music!"
For Boraski's 3rd appearance at Blues Fest, the band features Cale Wilson (1st lead guitar), Brad Rusnak (keyboards & vocals), Mark Soderlind (2nd lead guitar), Bob Stewart (saxophone), Mike Carson (bass & vocals) and Tyler Manning (drums).
Stylistically, Boraski is a generous slice of Canadiana. His originals are danceable, upbeat blues-rock and R&B songs. His approach is understated, relying on unforced vocals, compelling lyrics and superlative musicianship to convey the message. Credit Boraski too, for eschewing the guitar histrionics that sometimes undermine the blues genre and for resurrecting the art of rhythm guitar playing. www.jamesboraski.com
Ken Wright