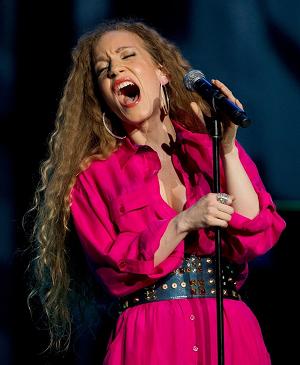 Saturday July 6
7:00 pm - 8:15 pm
Amanda Marshall's story is one of integrity and determination, of a young woman of mixed racial heritage who stood her ground in the face of unjust treatment. In 1995, Marshall appeared like a comet streaking across the night-time sky setting Canada's pop music scene ablaze. Six years later, like that same comet, she virtually vanished. A lyric from a 2001 hit, "Everybody's got a story that could break your heart," serves as a sad summation. And yet, Marshall's story is also one of personal triumph, of a belief that, ultimately, career should be a reflection of self.
She was always artistically inclined. "I was really, really, really enthusiastic as a kid. I was up for anything," says Marshall. "I was hugely into music and theatre." Enrolled at the Royal Conservatory of Music in Toronto, she received a classical training, then discovered old-school jazz and started to write pop-rock songs and soulful ballads.
After high school, Marshall gave college a pass. "In my mind I had already committed myself to a career in music," she says. "I had done that a long time ago." So, at 17, Marshall set out, working as a telephone operator during the day and performing in bars on Toronto's Queen Street West after dark. The powerful, bluesy emotion of her voice attracted attention leading to tours with Jeff Healey and Tom Cochrane.
In 1995, Marshall signed with Epic Records and released her eponymous debut. Her anonymity vaporized when the album spawned 6 Top 40 hits and sold 6 million copies world-wide. Critics were particularly keen on the real-life content of songs like Birmingham and it's frank portrayal of an abusive relationship. "All along, I wanted my songs to be about things," says the 7-time Juno Award nominee. "It was important to me to do things that meant something."
1999's follow up album, Tuesday's Child extended the arc of her success selling triple platinum. Marshall's songs enhanced the soundtracks for the major Hollywood motion pictures Tin Cup and My Best Friend's Wedding.
Things turned decidedly sour with her third studio album, the more R&B oriented Everybody's Got a Story (2001). Although it achieved platinum sales, Marshall, feeling that the album hadn't been sufficiently promoted and that she wasn't receiving due royalty payments, fired her management team. That triggered a decade of legal disputes during which time Marshall treaded water, releasing three greatest hits compilations and making sporadic, one-off casino and festival appearances.
She made the best of the break, recharging her emotional, spiritual and creative batteries and, more importantly, growing as a person. "I was just out of high school and I missed out on a lot of life skills that you need just as a human being." she says. "So the last 10 years have been really valuable to me in that regard."
Marshall has reputedly been at work on a fourth album for some time now. A little gun shy and aware of high expectations, she's not rushing the project. "I'm just taking it day by day and when the record will be done, it'll be done," she says. "I'm not terribly, terribly worried that my audience is running away." www.facebook.com/amandamarshall.ca
Ken Wright